Quilling Gallery One
Examples of earlier quilling projects . . .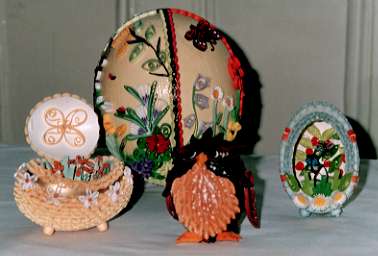 In amongst this group is my quilled Ostrich egg (farmed, by the way!), with four panels representing the four seasons.

The Gallery
Click on one of the thumbnails in the panel below to see a detailed picture. There are short descriptions of each item below - just in case it isn't obvious what they are!









Antique Quillings




The Items
Going from left to right, and top to bottom . .
Numbers 1 and 7 show a selection of decorative boxes, made entirely of paper - the base and lid are made from one coil, the sides are formed from a single strip of WIDE paper, and the lids quilled as you can see.
The duck is formed on a goose egg and a quail's egg for body and head respectively.
The two floral plaques show a wide range of techniques.
Number 4, the floral picture, is on hessian - though he picture doesn't show the colours too well.
The fridge magnets go down a storm at craft fairs!
The reflected light on the owl is a bit of a distraction, but I hope you can get the effect. The design is from "Hazel's New Designs for Quilling " (Hazel Pearson) - the "hessian" picture is her design, too.
The basket isn't really quilled - well, the base is - but it is entirely constructed of paper: the sides and lid are woven around hand-rolled paper spills. It holds pot pourri.
The snowmen are also a bit out of focus - but these 3-D models are great fun at Christmas. I have gradually built up a complete set of Nativity figures, too - pictures on the second quilling gallery.. (link repeated at bottom of page !)
The Celtic badges are great fun!
I photographed these exquisite antique quillings in the V&A - the Victoria and Albert museum in London, England. There are lots of other items there, including complete tables and cabinets. They are not always on display though - we were granted a personal tour! The fourth item - the obelisk - is in the York Castle Museum, and is kept under a glass bell as you can see. Click here to see a detailed close-up of the panel.
I have also quilled on wooden plaques, slate coasters, wooden boxes, tea caddies and a variety of eggs - you can see some in the group picture at the top of this page. Plain "jotter blocks" in a paper box with quilled decorations make lovely presents. I also make 3-D figures, such as a free-standing Father Christmas, hanging Christmas-tree decorations, and earrings. I used to make greetings cards and gift tags for craft fairs, but no longer have the time to make stocks of these, and so reserve them for family and appreciative friends! There is also the 15-inch high free-standing Christmas tree ...maybe there will be a THIRD quilling gallery on the next update!.
Resources
(Repeated on Gallery 1) I use ordinary PVA glue (Marvin Medium), and used to use a wooden cocktail stick to apply it to the edges of the strips - until I found a brilliant glue dispenser designed by a former chairperson of the Quilling Guild. E-mail her at AnnePeak@aol.com for information. All papers used for these projects were supplied by JJ Quilling Design.
NB: No quilling tools used here - finger-rolling only !

- click the sign to go back to the first quilling page.




- click the sign to go on to the second quilling gallery.
Thanks. . .for visiting.


If you would like to contact us at any time send e-mail to:

Lesley at Lesley@lesleydavies.co.uk or
Brian at response@bdavies.co.uk




Return . . .
to the main Quilling page.