Handmade Books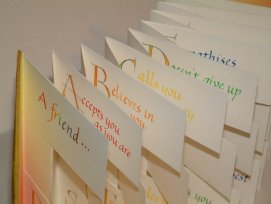 Handmade books (particularly blank books) have been my passion over the past year. My family have become accustomed to eating meals surrounded by papers, boards and threads - and we haven't used the heavy earthenware casserole dishes as they've been commandeered for book presses! Oh, to own an old-fashioned cast-iron bookpress! Many of my books have been sold or given as gifts - there's a limit to the number of books I can use myself so I've had to find outlets, and the recipients have been very enthusiastic!





People have asked what handmade books can be used for. Well - the uses are endless! Here are a few - and I'd welcome any more suggestions!
A diary or a journal to record memories/personal feelings, etc.

A special sketchbook.

A blank book for its recipient to use as he/she wishes.

A notebook for your pocket/handbag.

Keep a list of books you've read - or books you would like to read.

A book of favourite poems or quotes.

Keep a record of what goes on in your garden.

A recipe book.

An address book.

A travel journal - for a special holiday or trip.

Make a special scrapbook/memory book.

A photograph or postcard album.

For budding authors or poets to write their stories/poems.

A birthday/anniversary book.

A guestbook for a wedding or party.

A baby book.

An autograph book.

A bird-watching book.

Are you a rubber stamper? Keep a record of your stamps, with design and colour ideas.

A dream journal.

A book about your pets.


You can find lots of examples of my handmade books in our galleries... many of the books shown on these pages can either be ordered from stock or specially made for you. Email us with your requirement or for more details.

The Galleries:
Bookmaking 1 - Japanese Stitching
Bookmaking 2 - Coptic Stitching
Bookmaking 3 - A Mixed Bag
Bookmaking 4 - Single & Multi-signature Notebooks
Some Interesting Links:
Cynscribe - all the links to Book Arts sites you will ever need (and lots more besides!)
The Book Arts Web
Guild of Bookworkers
Beth Lee - Calligraphy & Book Arts

Interesting books... on books!
Too many recommendations to list here - click the book to see the list, click BACK to return here.

If you would like to contact us at any time send e-mail to:
Lesley at Lesley@lesleydavies.co.uk or
Brian at response@bdavies.co.uk

Return . . .
... to the main page.