Quilling Gallery Three
Even More Examples of quilling projects . . .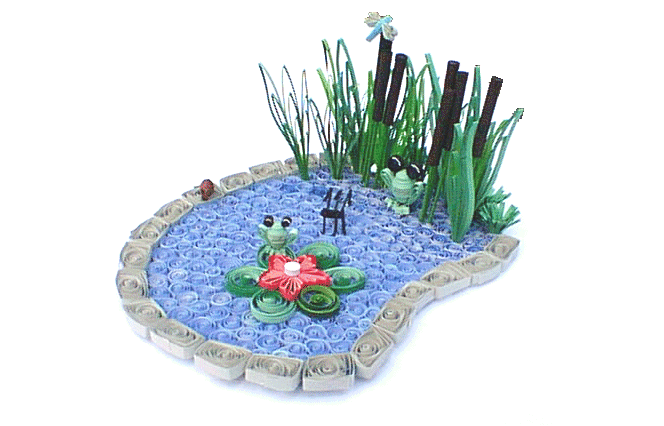 .
This 3D quilling of a garden pond was an "under 14's" prize-winner at the 1999 AGM of the Quilling Guild. It is about 17cm across and 10 cm high - and was made by our daughter Bryony :-)
Click the thumbnail below for a closer view.

The Third Gallery
Four quilled roses in the style of Charles Rennie Mackintosh: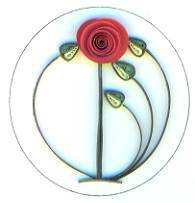 &nbsp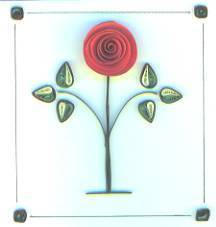 &nbsp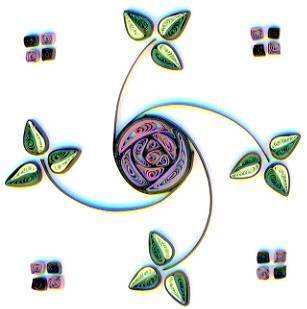 &nbsp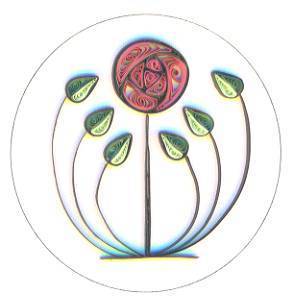 Click on one of the thumbnails in the panel below to see a detailed picture. There are short descriptions of each item below - just in case it isn't obvious what they are!
The Items
Going from left to right, and top to bottom . .
The quilled peacock - which won the Rose Bowl for the most interesting quilling at the Quilling Guild's Exhibition in 2000 - is an interpretation of a papercutting by Elzbieta Kaleta. This style of papercutting originates in Poland and is known as a Polish gwiazda (or star) design, in the Lowicz style.
Second Row
Bryony's pond -
Close up showing a fringed flower, on a hessian background. It is part of the floral piece which appears on the first gallery.
Celtic Design - the Goose motif found on Iona...similar to a design used with a calligraphy project shown in Quilling Gallery 2. The goose logo is the copyright of the Iona Community - visit them at www.iona.org.uk. Also, you can visit their bookshop at the Wild Goose Publications' website.
Third Row
Two quick-to-make badges (called "buttons" in the US, I think) on a celtic theme...they are entirly quilled, including the "base" disc.
Resources
(Repeated on Galleries 1 & 2) I use ordinary PVA glue (Marvin Medium), and used to use a wooden cocktail stick to apply it to the edges of the strips - until I found a brilliant glue dispenser designed by a former chairperson of the Quilling Guild. E-mail her at AnnePeak@aol.com for information. All papers used for these projects were supplied by JJ Quilling Design.
NB: No quilling tools used here - finger-rolling only !

- click the sign to go back to the first quilling page.


- click the sign to go to the first quilling gallery.

- click the sign to go to the second quilling gallery.
Thanks. . .for visiting.


If you would like to contact us at any time send e-mail to:
Lesley at Lesley@lesleydavies.co.uk or
Brian at response@bdavies.co.uk

Return . . .
the top Quilling page.